the Parisian Anthology collection from Pink Paislee and the House of 3 is fabulous. I
love
all of the embellishments and I just ran out of the "invisibles" paper that Heidi came out with over a year ago. It looks like those are back in different patterns, yays! So happy!!
Here are some of the sneak peeks I have found in surfing the web. Love them all! This necklace by Rhonna Farrer using elements from the Parisian Anthology Collection. yum!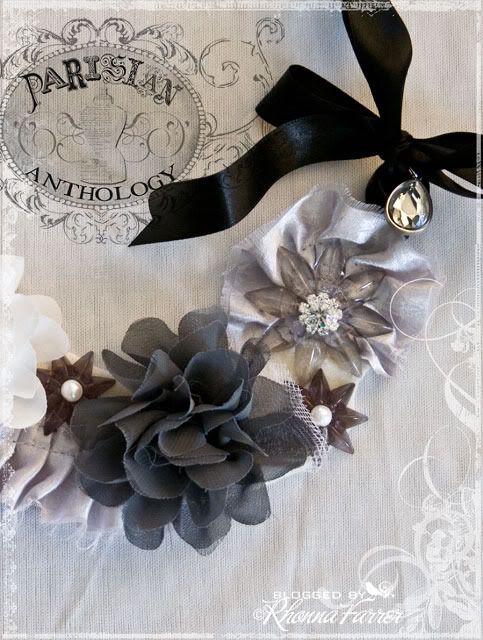 I have been trying to find ruffled lace in more stylish colors and I cannot find or have enough bling. (I have had a love affair with bling for quite a few years now.) My search is over between Teresa Collins and now this collection, I'm set unless I'm looking for something truly vintage.
Tote Bag designed by Janet Hopkins using stamps and embellishments from the Parisian Anthology Collection
So much crafty goodness, so little time. Now, I really need to clean out the old studio to make room and get motivated to use all of these pretties and the ones I already have.
I have been thinking of re-organizing the way I have my papers, embellishments, etc. stored. I have had them organized by manufacturer for as long as I have been scrapbooking. I really need a change, but it will be a major overhaul and I guess that's why I'm stalling.
Finally, if you are still looking for the Tattered Angels Chalkboard Glimmer Mist it is available now at Scrapbook.com. My favorites are
Strawberry Shortcake
and
Peacock
.
This post was kind of random. If you made it this far, thank you love for hanging in there. I can tend to ramble away sometimes.
Loves.
D.