is the book that has inspired me. Most ladies who scrapbook have heard of project 365, where you take a photo everyday for an entire year. While this is something I have wanted to do but seemed too much and very overwhelming, I feel I was meant to stumble across this book. Here is a little background about it: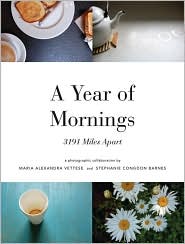 "A Year of Mornings" collects 236 images....these are vignettes of simple everyday things: a cup of coffee, soft-boiled eggs, rain boots kicked off at the front door, the stem of a flower, many crumpled napkins, many spoons. The photos and book capture the rhythms of everyday life, often surprising the viewer by the sheer beauty of the most quotidian element. That each woman paused to record the curve of a daughter's ear, a bowl of cereal or a shadow cast across the floor before sitting down in front of a computer is an act that carries with it the most clichéd, yet essential, of all messages: stop and smell the roses (and the coffee, the toast, the morning air). We're living in difficult times, and it seems it's exactly these tiny details and fleeting moments that can offer us the most solace and even joy.
Looking at the images in this book, I really wanted to do something like this. but.....I knew with my schedule I would not be able to capture a photo every morning.
So, my answer is this - to take a photo every Saturday and Sunday, then post them here. A way to document, in photos, the two days where we can be together as a family the most.
Maybe I will even come up with a name for this project....LOL!
I would LOVE for you to join me. I want to start next Saturday June 26th and continue every weekend for a year. If you decide to follow along please let me know, link me up to your blog. I want to create a space on my blog to list yours.
I'll be back on Monday to start releasing the "journaling questions" I have complied from a altered book class I taught several years ago.
Wishing you and your husband's a wonderful Father's Day and a fabulous Sunday!
Loves
D.